Enjoy a refreshing glass of homemade Passion Tea Lemonade with this Starbucks™ inspired recipe. This delightful drink is perfect for a warm day and is easy to make at home. Discover the benefits, variations, and tips for making the perfect glass!
Refreshing Passion Tea Lemonade: A Starbucks™ Inspired Recipe for Warm Sunny Days
Are you a fan of Starbucks™ Passion Tea Lemonade and want to enjoy it in the comfort of your own home? Look no further! Our recipe captures the flavors of this popular Starbucks™ drink while allowing you to put your own twist on it. Get ready to impress your friends and family with this delicious, refreshing beverage perfect for warm days. In this post, we will discuss the benefits of the ingredients, provide ideas for customizations, share tips for the perfect Passion Tea Lemonade, and answer frequently asked questions.
Benefits of Passion Tea Lemonade Ingredients
Not only is Passion Tea Lemonade delicious and refreshing, but it also contains some health benefits:
Tea: Tea is rich in antioxidants, which help protect the body from damage caused by free radicals. Antioxidants may help reduce the risk of chronic diseases, such as heart disease and cancer.
Lemon: Lemon juice is an excellent source of vitamin C, which plays a vital role in supporting the immune system and promoting skin health.
Lemongrass: This fragrant herb has calming effects and can help reduce anxiety and stress. It also contains anti-inflammatory properties, which may help alleviate pain and discomfort.
Variations and Customizations
The beauty of this recipe is that it can be easily customized to suit your taste preferences. Consider these ideas for personalizing your Passion Tea Lemonade:
Sweeteners: Swap the sugar for honey, agave nectar, or stevia for a different taste profile or to accommodate dietary restrictions.
Herbs and Fruits: Enhance the flavor by adding fresh herbs like basil or rosemary, or by muddling berries like raspberries or strawberries into the drink.
Sparkling: Give your Passion Tea Lemonade a fizzy twist by substituting sparkling water for part of the water in the recipe.
Tips for the Perfect Passion Tea Lemonade
To make the best Passion Tea Lemonade, keep these tips in mind:
Use fresh lemon juice for the best flavor and health benefits.
Chill the glasses in the freezer for a few minutes before serving to keep the drink cold longer.
Adjust the sweetness level to your taste by adding more or less infused simple syrup.
Frequently Asked Questions (FAQs)
Can I use a different type of tea? Absolutely! Feel free to experiment with other tea flavors like green tea, black tea, or herbal teas to create your unique version of this lemonade.
How long can I store the Passion Tea Lemonade in the refrigerator? You can store the Passion Tea Lemonade in the refrigerator for up to 3 days. Just give it a good stir before serving, as the ingredients may have settled.
Can I make this recipe in advance for a party? Yes! Prepare the tea and infused simple syrup ahead of time and store them separately in the refrigerator. When you're ready to serve, simply mix everything together and add ice.
Related Recipes
If you enjoyed this Passion Tea Lemonade recipe, be sure to check out our other lemonade recipes:
A boozy twist on a delicious summer drink, fresh-squeezed lemonade infused with mint simple syrup and watermelon.
Check out this recipe
Infused with mint and added flavor with ginger ale, this Bourbon Spiked Lemonade cocktail recipe makes a large amount for summer gatherings.
Check out this recipe
The easiest, and best tasting lemonade recipe around! All you need are lemons, water and sugar. Our foolproof method uses a syrup base to ensure the correct ratio of sugar and water in each glass of lemonade, regardless of the number of lemons you have!
Check out this recipe
Made with fresh-squeezed lemon juice and cannabis sugar, this drink cannabis lemonade is an open canvas for you to add any additional ingredients you desire. And, it's ready in under 15 minutes!
Check out this recipe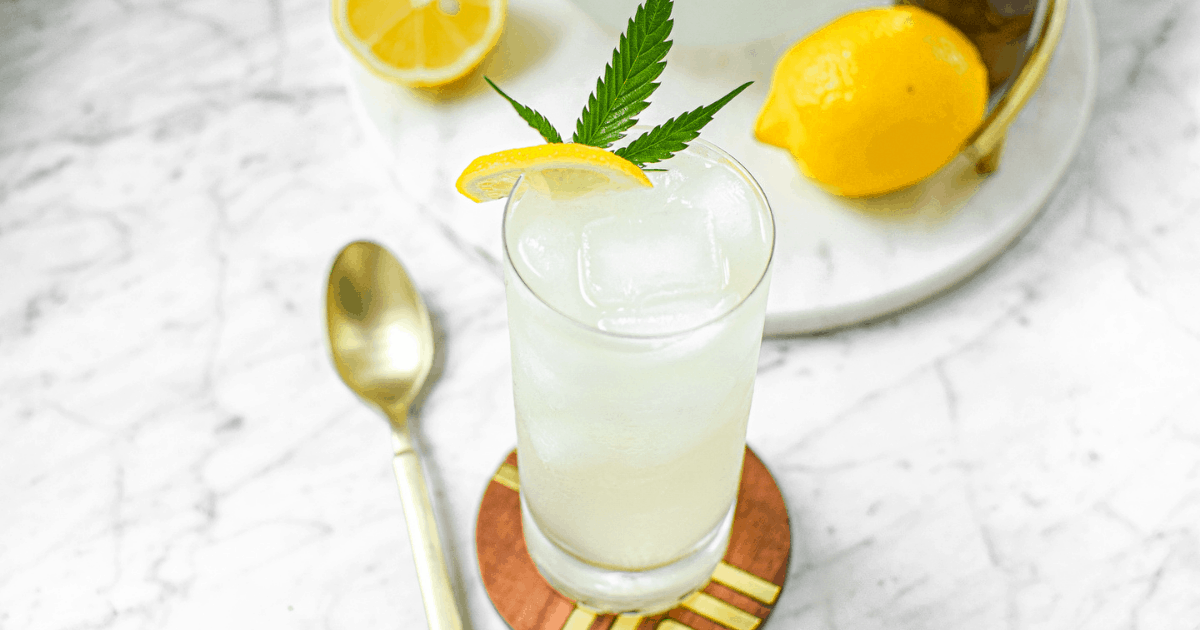 The ideal summer drink, this very berry hibiscus iced tea combines fresh berries, citrus, honey, and hibiscus for a delicious and slightly sweet sip.
Check out this recipe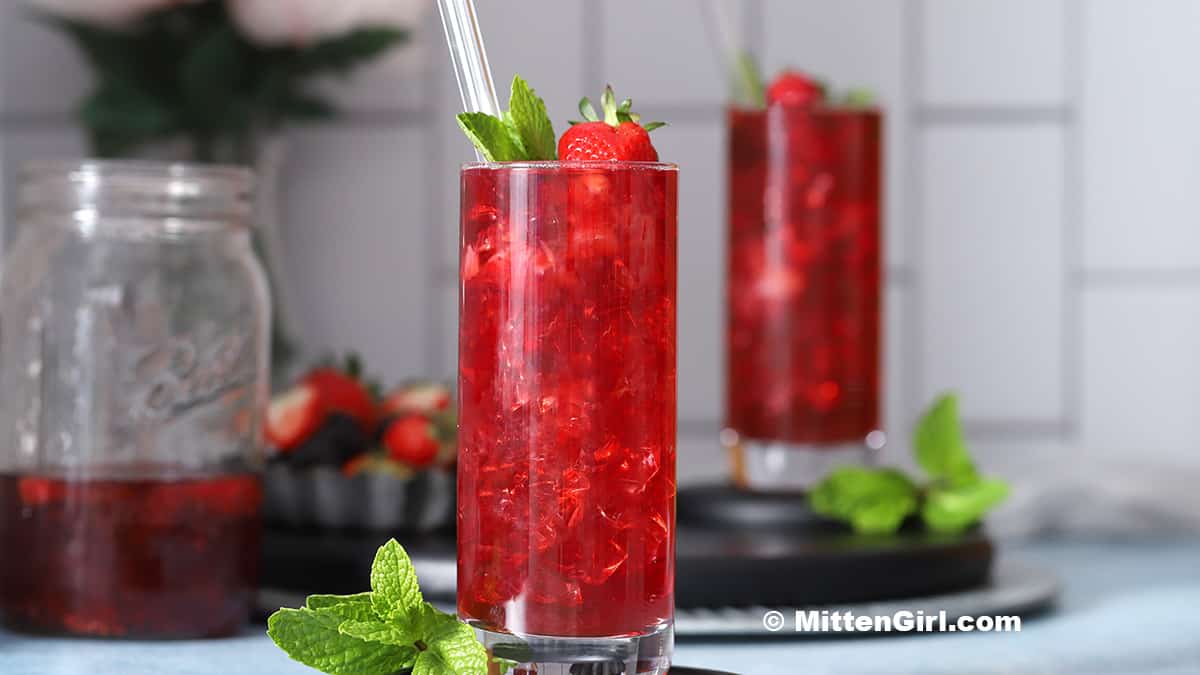 Ready to taste this super easy strawberry lemonade recipe and keep on drinking in through spring and summer? It's quick – and easy to spike.
Check out this recipe
This 4 ingredient homemade Orange Lemonade recipe has the ultimate citrus flavor- fresh squeezed orange and lemon juice with a citrus syrup.
Check out this recipe
Mango iced tea freshly made with real mango pulp and black tea. Make it your way with green or white tea instead of black tea leaves. Serve cold with ice cubes for a bigger crowd.
Check out this recipe
Mango Lemonade – refreshing, bubbly, super coolant tropical summer drink that is incredibly easy to make and gets ready in just 5 minutes. Perfect to serve for warm weather!
Check out this recipe
Passion Tea Lemonade
A homemade Passion Tea Lemonade with our Starbucks™ inspired recipe! Perfect for warm days, this refreshing drink is easy to make and offers health benefits. Explore variations, tips, and more in our detailed guide.
Ingredients
5¼ c. water, divided
4 Tazo® Passion® tea bags
¼ c. sugar
4" piece lemongrass, finely chopped
2 small cinnamon sticks
½ c. fresh lemon juice
Ice, to serve
Garnish: (optional)
Fresh lemon slices
Sprigs of fresh mint
Instructions
1. Bring four cups water to a rapid bowl in a teapot or saucepan. Remove from heat and add tea bags. Allow tea bags to steep for several minutes before discarding.

2.To prepare the infused simple syrup, combine a quarter cup water, sugar, lemongrass, and cinnamon sticks in a small saucepan and place over medium heat. Simmer, stirring occasionally, until mixture is heated through and starts to thicken, approximately 4-5 minutes.

3.Remove from heat and pour through a fine mesh strainer to separate the solids from the liquid. Discard solids and set the remaining simple syrup aside to cool.

4.Combine the brewed tea, lemon juice, and remaining cup of water in a large pitcher. Add infused simple syrup, to taste, and stir to combine.

5.To serve, fill four chilled glasses with ice before adding the sweetened iced tea mixture. Garnish with lemon slices and sprigs of fresh mint, if using, and serve immediately. Enjoy!

Recommended Products
As an Amazon Associate and member of other affiliate programs, I earn from qualifying purchases.
Nutrition Information
Yield

4
Serving Size

1
Amount Per Serving
Calories

125
Total Fat

0g
Saturated Fat

0g
Trans Fat

0g
Unsaturated Fat

0g
Cholesterol

0mg
Sodium

18mg
Carbohydrates

33g
Fiber

1g
Sugar

13g
Protein

1g
Nutrition calculated based on general ingredients. Value can vary based on brands and other factors.
This Passion Tea Lemonade recipe captures the essence of the popular Starbucks™ drink while allowing you to customize it to your taste preferences. With the infused simple syrup, you can add just the right amount of sweetness, while the lemongrass and cinnamon sticks add a unique depth of flavor. Serve this refreshing Passion Tea Lemonade at your next summer gathering, or simply enjoy it on a warm afternoon as a delightful treat. Cheers!
Share This Passion Tea Lemonade With A Friend!
If you love this Passion Tea Lemonade recipe, don't forget to share it with your friends and family on social media! Use the social sharing buttons below to spread the word about this delicious and refreshing summer drink.
By incorporating these tips and sections into the blog post, you'll create a more comprehensive and engaging piece that provides valuable information for your readers. This will ultimately lead to a better user experience, increased time spent on the page, and improved Google search rankings for your post. Enjoy making and sharing this delightful Passion Tea Lemonade recipe with everyone you know!