Celebrating Easter in Venice
If your family is anything like ours, Easter is usually a big celebration with family and friends. A nice honey baked ham, mashed potatoes, candied yams, asparagus with hollandaise sauce… and of course, deviled eggs after the kids have finished with coloring them. We love watching the little ones hunt for the plastic eggs in the yard and sharing their treats with each other. This year, celebrating Easter in Venice is a lot different with everyone practicing social distancing, but we can still get awesome family meals from our local favorites!
The Best Way To Celebrate Easter in Venice for 2022
If you are going to be in the Venice area for Easter, this is the ultimate guide of what to do, where to eat and goodies to grab!
Activities for Kids in Venice for Easter
---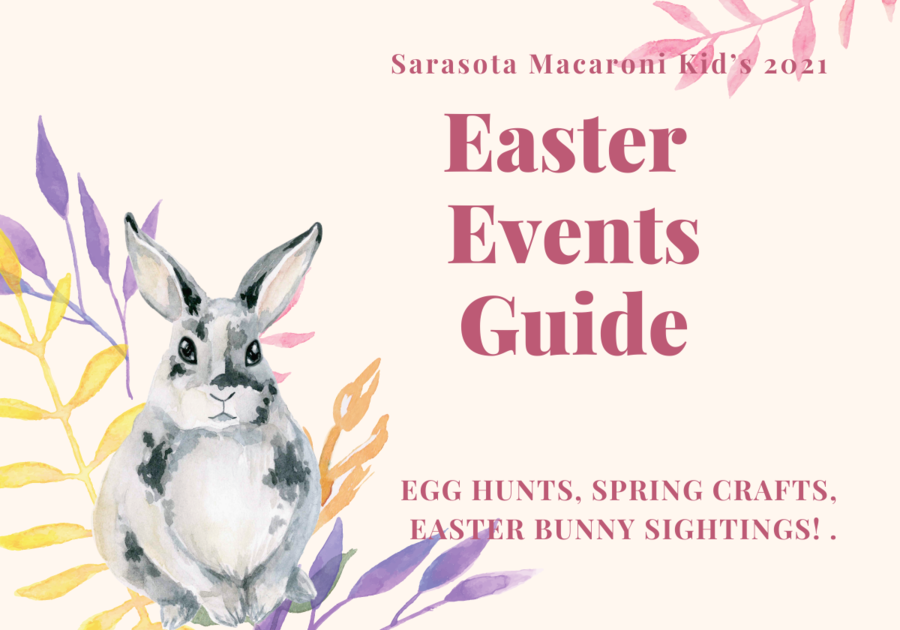 **Updated for 2022!!**
Sarasota/Venice Macaroni Kid has also published their guide to all of the fun Easter Events going on in the area!
Egg Your Yard in Venice
Imagine having your child wake up on Easter morning to a yard filled with treat-stuffed eggs and you didn't even lift a finger? This year, we will be offering our services to come and Egg Your Yard in Venice for a small fee! We'll also be offering upgrades such as a personalized letter from the Easter Bunny, a prefilled Easter Basket with a stuffed animal, candy and goodies, or bunny footprints on your front porch/doorway!
Choose how many eggs you want stuffed and delivered to your home and if you want them delivered Saturday between 5-9 pm or 9:30 pm-12 am.
We will include one special Jumbo egg with an added surprise.
Choose any add-ons and any notes on special requests (we can't promise to fulfill them, but we'll do our best!)
We will be in touch with you Friday night with an approximate time for your delivery.
Personalized Easter Baskets!
This year, we will also have these adorable Easter Baskets that look like floppy earred bunnies! We will add your child's name and either the year or last name on the other ear. The empty basket is $10, but if you want it filled, we can do the personalization, filling and delivery for only $25!
Local Easter Egg Hunts – Eggstravaganza
Venice Main Street Inc is hosting Easter fun in 2 locations this year! More details coming soon.
Saturday, April 16th
Easter Egg Hunt in West Blalock Park
10:00-11:30am
Across from the Venice Museum & Archives and Venice Community Center; 2.5 blocks from downtown Venice.
401 Pensacola Road
Kids Activities in Centennial Park
11:30am-1:00pm
200 West Venice Avenue
Where Can I Get Easter Brunch or Dinner in Venice?
*Updated April 2022*
Enjoy spending time with your loved ones this Easter! If you're planning to order your meal this holiday season, make sure you plan in advance. Easter is typically the beginning of the end of our tourist season, but keep in mind that it IS still our busiest time of the year. The first thing to do is decide if you want to eat inside the restaurant or grab take-out to bring home with you. There are always great options for both!
Restaurants Open on Easter Sunday
Bodrum Restaurant
Crow's Nest
Sharky's on the Pier / Fins at Sharky's
Metro Diner
Blu Island Bistro
Burgundy Square Cafe (open until 2 PM)
Suncoast Cafe (open until Noon for breakfast only)
Jim O'Haras (OPEN Easter Sunday from 8 am till 12 pm)
Cote France
Hotel Venezia
Mitch's Kitchen
Traditional European Deli
Yummies Donuts & BBQ
YummiesDonuts.com
2001 Tamiami Trl S, Venice, FL 34293 
(941) 493-7170
Yummies has all the sweets for Easter! Whether you want something for a special breakfast treat or a platter of sweet and savory sticky pig sliders for the family dinner… Yummies has it! Call in advance to make sure you get the goodies you need for your celebration.
Chaz 51 Steakhouse
549 US 41 BYPASS NORTH
VENICE, FL 34285
(941) 484-6200
Easter  Sunday Dinner will be Sunday April 17th from 3pm to close. The full Dinner Menu will also be available. The special menu for Easter is $45 per person and includes 3 courses. For the first course, choose either a Ginger curry butternut squash bisque with a garlic flatbread crostini or an Iceberg Wedge BLT Salad with bacon lardons, red onions, heirloom tomatoes, crumbled blue cheese, and blue cheese dressing. For the main course, Mustard glazed smoked ham, garlic parmesan broccolini, and whipped potatoes. Finishing up with a delicious
Chocolate Bourbon Pecan Pie A La Mode for dessert.
Rosebud's Steak and Seafood
Cafe Venice
101 W Venice Ave
Venice, FL 34285
(941) 484-1855
Cafe Venice offers a special Easter menu from 12 pm to 7 pm on Easter Sunday. It is available not only for dine-in, but also togo! With various soups and starters between $7-$16 and entrees from $18 for a veggie zoodle pasta all the way to a New Zealand rack of lamb for $42.
---